Welcome to the Office of Student Disability Services!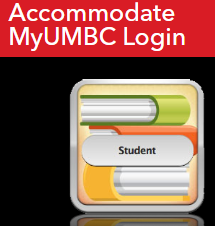 The University of Maryland, Baltimore County's Office of Student Disability Services (SDS) coordinates accommodations for UMBC students with documented disabilities, as well as those with temporarily disabling conditions and injuries, that may require accommodations in order to have equal access and participation in the University's classes, activities, and housing. SDS is within the Accessibility & Disability Services (ADS) unit under the Division of Academic Affairs. 
We are guided by principles of inclusion, equity, and universal design, and all members of our diverse campus community are welcome here.  The first step towards success is access.
SDS LOOKS FORWARD TO WORKING WITH YOU!
Report Campus Accessibility Concerns
To report a campus access barrier, such as an electronic door opener not working, or ideas for projects and improvements, you may use our online reporting form at
https://accessibility.umbc.edu/report-campus-accessibility-concern/
*For prompt service repair/requests such as a broken door or elevator, call Facilities Work Control at (410) 455-2550 (Website link is https://fm.umbc.edu/work-request/).
*For Residential Life repairs, submit a report at "Submit FXit" https://reslife.umbc.edu/.
**To address a personal accommodation related concerns, please use the SDS student appeal and grievance process, and do not use the "report campus accessibility concerns" Google form link listed above.
TODAY

, May 16th, 2023, is the

LAST day

to schedule Final Exams in SDS on the Main Campus.
Other SPRING 2023 SDS Reminders…
NEW STUDENTS: REGISTER with SDS online and submit disability documentation. An email message to schedule an intake appointment will follow. Read this for more information.
REGISTERED/RETURNING SDS STUDENTS: Submit your Semester Request for accommodations in Accommodate every semester enrolled to have your letters sent to your instructors/faculty.
 SDS Accommodated Test Proctoring:   
Mon, Thurs, & Fri   9 AM – 4 PM
Tues & Wed            9 AM – 6:00 PM
Schedule in-person tests in Accommodate at least

two

business days in advance.
To schedule a test or to meet with SDS staff, use our online Accommodate student portal.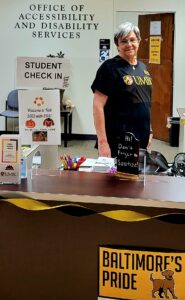 DON'T FORGET TO SCHEDULE YOUR FINAL EXAMS! 
Student Disability Services (SDS) Operations Overview
SDS staff work both in-person and in virtual modalities to ensure that disability support services and accommodations are provided for student access needs.
Meetings with SDS staff are held in person in the SDS offices, via the online Webex platform provided by UMBC, or via telephone call.
SDS-registered students will log into their online Accommodate student account to schedule meetings with staff, or for self-service tasks such as scheduling accommodated/proctored tests.
If you need a meeting time outside of business hours, please contact a staff member directly via email to request an alternative time be arranged. Evening hours can be scheduled on request.
NEW student accommodation requests require registration, submission of disability documentation, and an INTAKE appointment. Register online at Student Disability Services Registration Form.
If you do not have your disability documentation and would like to consult with a staff member, please call or email and you will be connected to a staff resource person.
Plan to allow for up to two weeks processing time for staff to review the registration and to respond to the high volume of new student intake requests. We try to accommodate all urgent situations, however next-day service for accommodation implementation is not always possible.
---
HELPFUL CAMPUS SUPPORTS: 
STUDENTS: Visit Do-IT's page on Student Technology Resources at  https://doit.umbc.edu/students/,
The Academic Success Center is an excellent source of academic support and assists with tutoring, online learning tips, academic policy questions, success planning meetings, and academic advocacy.
The Student Affairs Resources webpage also lists a number of offices and services that support student health, well-being, and community connection.
FACULTY: Please review our SDS recommended guidelines for providing accommodations found under the SDS Resources menu -> "Information for Faculty" webpage.
---
*Are you a UMBC EMPLOYEE seeking a disability-related accommodation?
To start an employee accommodation inquiry/request, use

the

online form

found on 

the Accessibility and Disability Services ADS website for employees

.

For questions about the employee accommodation process, contact UMBC's Accessibility Manager & ADA Coordinator

Stephanie Lazarus by email at

slazar@umbc.edu or

by phone at (410) 455-5745.
UMBC is committed to creating an accessible, inclusive, and welcoming environment for all students, staff, and visitors.
If you have difficulties accessing any of the information on our websites, please contact us via email or phone so we can provide an alternative format and remedy any accessibility challenges or barriers.