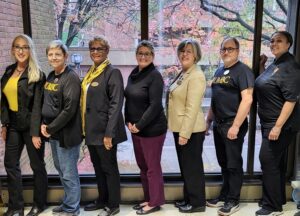 Office of Student Disability Services (SDS)

Accessibility & Disability Services Department: A Division of Academic Affairs
University of Maryland, Baltimore County
Math/Psychology Bldg., Rm. 212
1000 Hilltop Circle
Baltimore, Maryland 21250
SDS Telephone: (410) 455-2459
Fax: (410) 455-1028
         Email Us:
disAbility@umbc.edu  (For general inquiry, accommodated testing questions, or faculty training requests)
sdsnotetaking@umbc.edu  (For note-taking assistance inquiries)
Click here to contact individual staff members by email 
All staff work both in-person and virtually online through Webex to support students. 
Staff appointments can be scheduled through the Accommodate student portal or by contacting the staff member directly through email.
Intake appointments are required for new students and must be scheduled through the SDS Accommodate portal after the online SDS registration request form and supporting disability documentation are submitted.
UMBC students at SHADY GROVE campus (USG):
Students with disabilities taking courses at the USG campus follow the same SDS intake process as main campus students and can submit registration, documentation, and schedule an intake appointment using the Accommodate student portal.
Cassie Kilroy Thompson is the SDS staff liaison for USG students and faculty. You can schedule a general appointment if you have questions for Cassie in Accommodate.
Accommodation letters for USG students will be sent to USG faculty members from the SDS main campus office via email.
Note: Accommodated testing for USG students is managed through the USG Macklin Center for Academic Success and not UMBC's main campus.
For USG advising, registration, or questions unrelated to disability, the UMBC-USG campus contact's information can be found at http://shadygrove.umbc.edu/staff. 
For USG accommodated testing (the CAS test center), please visit their website:

https://shadygrove.umd.edu/student-services/center-for-academic-success/dss/Studenttesting

For USG testing questions: