Welcome to the Accessibility & Disability Services Department!
Our accessibility and disability services staff go through extensive professional training throughout the year to ensure they are providing you with the most up-to-date services and information related to disability access and postsecondary higher education accommodations. Our professional staff have been serving the disability community for many years professionally, and have both a professional and personal commitment, connection, and passion for the work we do to support equal access and disability inclusion and awareness.
The first step to success is access!
For general inquiries, contact us at  disAbility@umbc.edu or (410) 455-2359.
Tawny L. McManus
Assistant Vice Provost for Accessibility & Disability Services
Office of Accessibility & Disability Services (ADS) & Student Disability Services (SDS)
UMBC main & UMBC-USG campuses for students (SDS)
UMBC main campus for employees and visitors (ADS)
Administrator for Accessibility and Disability Services (ADS & SDS offices) with oversight for student and employee accommodations, disability services' operations for students/staff/visitors, and ADA/Section 504 compliance and initiatives. ADA Coordinator certified.
Responsible for managing policies, procedures, training, grievance and appeals process, staffing, and all fiscal operations/financial and budget management for the unit
Primary liaison and consultant to University Committees, Provost's Office, VPs & Deans, Office of Equity & Inclusion (OEI), Human Resources, Student Affairs, Faculty Senate, General Counsel, Library, DO-IT, the Academic Success Center (ASC), Facilities Management, and the University of Maryland System (USM)
Specialized training in psychoeducational and neuropsychological assessment, digital accessibility, ADA(AA), Section 504 & Title IX laws, and higher education administration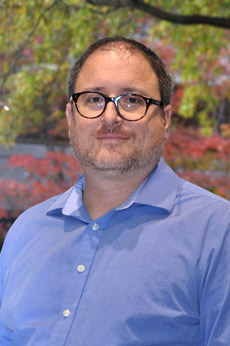 Michael Canale
Assistant Director, Office of Student Disability Services (SDS)
canale@umbc.edu
410-455-6358 (Desk)
410-688-5088 (Text, Facetime for DHOH students using ASL)
Student Disability Services' administrator responsible for assistive technology, IT accessibility consultations, and faculty liaison for course accessibility
Coordinator for Deaf and hard of hearing (DHOH) services and supervisor of ASL interpreter contractors
Accessibility specialist with specialization in sensory disabilities and accommodations (e.g.; vision, hearing, and autism)
Assists AVP in student grievance resolutions, student accessibility concerns, and academic success planning for students with disabilities
Trainer/Supervisor of SDS Graduate Assistants for digital course material accessibility and special projects
UMBC Inclusion Council representative, FYS Instructor: Intro to Disability Studies
Cassie Kilroy Thompson
Assistant Director, SDS Services & Operations
Office of Student Disability Services (SDS)
Student Disability Services' administrator responsible for SDS accommodated testing administration and data management
Liaison for Admissions, Orientation, Advising, and the Academic Success Center (ASC) offices assisting in resources and referrals for students with disabilities
Responsible for disability services' Accommodate software operations
SDS representative to UMBC-USG campus (Universities at Shady Grove)
DAPi Honor Society Co-Advisor
Valerie D. Valentine
Disability Specialist, Office of Student Disability Services (SDS)
Disability intake & accommodation specialist
Responsible for faculty, Residential Life, Counseling/Health, & Dining Services consultations on student accommodations
Point of contact for disability services verification/eligibility accommodation forms (e.g., ETS, Graduate Admissions exams, and military requests)

Stephanie Lazarus
Accessibility Manager & Campus ADA Coordinator
Accessibility & Disability Services (ADS): UMBC main campus for employees, visitors, and general campus access inquiries
Manager of faculty and staff (employee) accommodations. Disability access consultant for campus visitors.
Responsible for collaborations on campus accessibility and inclusion initiatives, partnerships, training, access concerns/suggestions, and resource referrals
Liaison to campus departments including Facilities Management, Environmental Safety & Health, Human Resources, Office of Institutional Advancement (OIA), General Counsel, Event planning, Campus Police, Transit, University committees and academic departments
Maryland Department of Disabilities (MDOD), Access Maryland, and State ADA Coordinators liaison
DAPi Honor Society Co-Advisor, Member of Disability Studies Faculty Working Group

Erin Minnigh
Administrative Assistant II/Office Manager
Office of Accessibility & Disability Services (ADS) & Student Disability Services (SDS)
Administrative support to ADS & SDS staff
Responsible for all office business services, financial, payroll, procurement, billing/payment, maintenance, and inventory operations
Sunny Warden
Program Management Specialist and Testing Manager
Office of Student Disability Services (SDS)
410-455-2459
Administrative support for the Office of Student Disability Services (SDS) front office
Manages accommodated student testing, procedures, and reception office operations
Responsible for hiring, training, and supervising student worker office staff
Coordinator of SDS communications and inquiries
Part-Time SDS Staff
Priya Rajasagi  (HCC PhD graduate student)
Graduate Assistant, SDS Assistive Technology support
disAbility@umbc.edu
Accessible course materials, assistive technology, and special project support
Accessible course materials, data management, and website support
Sumra Afzal  (IS, MS graduate student)
Graduate Assistant, SDS Assistive Technology support
disAbility@umbc.edu
Data entry, website, and office reception support
Student Staff 2023:
Jason Cummings                                                                                 
Corey Benjamin
Kruthika Anand
Dongthi Nguyen
Alexander Marc

Sakshi Chavanke
Akhil Chinnam
Kimi Cease
Mohammadaamir Tirmizi
Elizabeth Liedahl       
Jenna Schechter  
Jinal Kaneria   
Note-taking inquiries:
sdsnotetaking@umbc.edu (also see SDS notetaking webpage for questions)